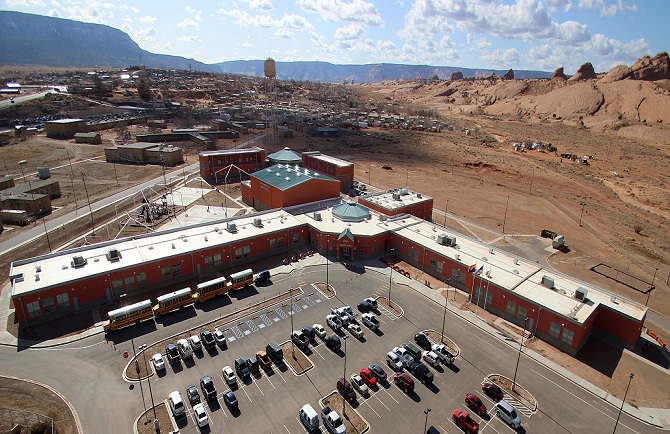 Our Mission Statement

It is our mission to ensure that every individual that enters our Professional Learning Community (PLC) suceeds academically and culturally. Our PLC includes all stakeholders to guide our children through a high quality and culturally relevant educational journey.
Our Vision Statement

Our Vision at Kayenta Boarding School is to integrate Din4 culture with highly rigorous academic curriculum. Kayenta Boarding School challenges every student to master life skills and to develop a good character. Students will be motivated, have self awareness and develop a global perceptive in a comfortable, safe, well structured and professional environment.
Our Philosophy Statement

We believe that:
T'11 h0 1j7t'4ego 4iya iin1 nizhdidool44l. Nits4h1kees, Nahat'1, Sihasin d00 Iin1 bee hazhd7t'4ego doolee[.
Students and stakeholders should actively and fully participate in their educational journey.
Every student should master all subject areas in all grade levels including Navajo Culture and Language.
Students should be highly competitive and successful in the Western and Din4 society.
Student should be productive citizens.
Student should master every grade level curriculum.
Students should embrace the teaching of our elders and carry those teaching into the 21st century.
All Staff should be positive, pleasant, professional and takes individual and collective initiative.
Our MOTTO

Here we are at KBS, where strive to do our BEST. Teamwork, Teamwork, Teamwork.
Contact Us

Kayenta Boarding School
1000 Main St. PO BOX 188
Kayenta, Arizona 86033

P: 928.697.3439
F: 928.697.3490

Residential: 928.697.3648
Facility: 928.697.2763
Cafeteria: 928.697.3632
Principal: 928.697.2703